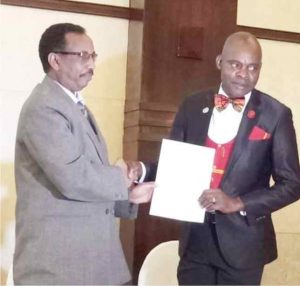 The African Accreditation Cooperation (AFRAC) has officially presented the Full Membership Certificate to Nigeria National Accreditation Service (NiNAS). The Full Membership status is the highest status that can be attained by any accreditation body before being considered for a Mutual Recognition Arrangement (MRA).
The certificate presentation was carried out on the 28th of September, 2018 during the just concluded AFRAC 9th General Assembly that held in Mauritius. This is indeed a step ahead for NiNAS and by extension the Nigerian economy.
The next step for NiNAS in the regional accreditation system is becoming an MRA Member after a successful peer evaluation by AFRAC. The NiNAS team is committed to taking the National accreditation body to the next level. This will eventually translate into a positive outlook for the Nigerian economy as goods and services certified by NiNAS-accredited laboratories/CABs will be accepted regional and by extension globally.