The World Accreditation Day, the 9th of June, is a day set aside globally by the International Accreditation Forum (IAF) and the International Laboratory Accreditation Cooperation (ILAC) to create awareness on Accreditation. Nigeria is joining the world to celebrate this day.
Nigeria National Accreditation Service, NiNAS in collaboration with Standards Organization of Nigeria, SON will be marking the 2019 World Accreditation Day on the 11th June 2019.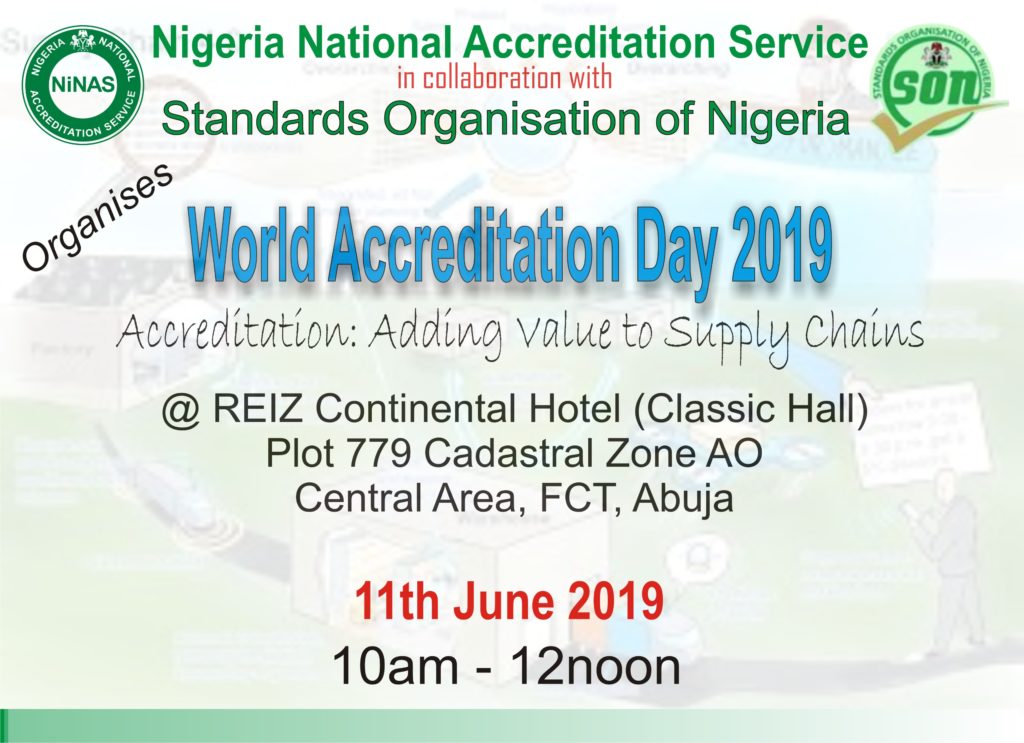 This year's theme is "Accreditation: Adding Value to Supply Chains", focuses on how accreditation provides added value to supply chains.
Supply chains provide a vital role in delivering products and services for consumers, business and the public sector in a timely, cost-efficient and quality manner. Accreditation and, with it, other quality infrastructure tools such as standards, metrology and conformity assessment, provide widely accepted tools that help deliver value to the supply chain. These tools help with trust and assurance, enabling confidence in both final products and services and the manner in which they are placed on the market and used.
In this collaborative effort, SON and NiNAS wish to use this day to bring all stakeholders together to discuss how accreditation can be used as a tool to protect our citizens and their investment by value added supply chains network in the system through application of standards and accreditation.
Key Professionals and regulators related to this sector are expected to be in attendance while Experts will be presenting on different issues related to building confidence in the supply chain industry which would add value and bring about economic growth and development.
As a valuable stakeholder, you are invited to attend the 2019 World Accreditation Day. Please, join us at the discussion table on this important day.
This event is schedule to hold as follows:
Venue: REIZ CONTINENTAL HOTEL (Classic Hall), Plot 779 Cadastral Zone AO Central Area, FCT, ABUJA
Date: 11th June 2019
Time: 10am – 12pm